Whirlwind FX Element Review: You've Never Seen A Keyboard Do THIS
The gaming keyboard space is a crowded market filled with same-y products that all promise the fastest click rate and the widest range of colors you've ever seen. The Element keyboard from Whirlwind FX is different. Whirlwind has developed a way to read in-game information and translate it to the keyboard. This isn't anything like typical game integration either, because the Element doesn't rely on access to developer files or complex programming to do what it does. Very simply, the Whirlwind Engine analyzes light and color from your screen, no matter what you're watching or playing, and maps it onto the Element keyboard. The effect is pretty incredible when you see it and, not for nothing, it's a pretty phenomenal keyboard on its own too.
A New Way To Experience Content
I first experienced the Element keyboard at PAX East last month. Whirlwind FX had an array of 20 or so keyboards mounted on the wall of their booth to demonstrate the unique content-reactive capabilities of their keyboard. Anyone could request a music video or game trailer on Youtube and, as it played, the keys on the keyboard would light up to match the images on the screen as if each key was an individual pixel. It was like a modern art exhibit and I couldn't take my eyes off it of.

Obviously, the resolution wasn't great. Keyboard keys are quite a bit bigger than pixels on a monitor. I imagine they would need hundreds, if not thousands of keyboards to accurately recreate a 720p Youtube video, but 1:1 recreation isn't the point of the Element anyway. You're only going to be using 1 keyboard at home, after all, so what's the point of it?
For me, the delight of using the Element keyboard comes down almost entirely to the atmosphere it creates. High contrast content reflects the best in the keyboard because you can really see the spaces between light and dark. A lot of times it just looks like a beautiful mess of blinking lights. The big color shifts and high contrast shots are really what make the Element shine. Explosions send a wave of orange and red across the keys and silhouettes dance across the keyboard as groups of keys light up and go dark. This Overwatch demo from Whirlwind FX's Youtube channel does a pretty great job capturing the experience.
In a darkened room it feels like the game is coming off the screen and onto your keyboard. It sort of reminds me of Microsoft's Illumiroom demo from CES 2013. The blending of gaming with the physical world is the core of augmented reality, the next step forward in electronic entertainment.
Game Integration
The potential the Whirlwind Engine has for game integration seems virtually infinite. A few games already have cool integration features. I've been playing Call of Duty: Warzone, and I get blue pulses when I armor up and red waves when I take damage. There are some limitations, of course, considering the software isn't plugged into the game files. For example, it has no way of reading items you pick up, so there's no flash of green when you pick up money and no golden light show when you find a legendary item. There are other gaming keyboards that have more sophisticated game integration, but again, only for a handful of games.
The Whirlwind Engine only has integration for a handful of games right now too, but at PAX East the team showed me how easy it is for anyone with some HTML know-how to get in and start programming their own game profiles. Eventually, the team would like to allow these profiles to be uploaded and available to all Element users. Think of it like Steam's controller profile catalog. The Whirlwind Engine has the potential to have the largest game integration library of any device out there.
Oh Ya, And It's Also Just An Excellent Keyboard
Braided cable, linear red or clicky blue switches, and an aircraft aluminum build make the Element a durable, fully-featured mechanical keyboard. It doesn't have many bells and whistles like extra ports, volume knobs, or LCD displays, because Whirlwind has really gone all-in on the RGB aesthetics.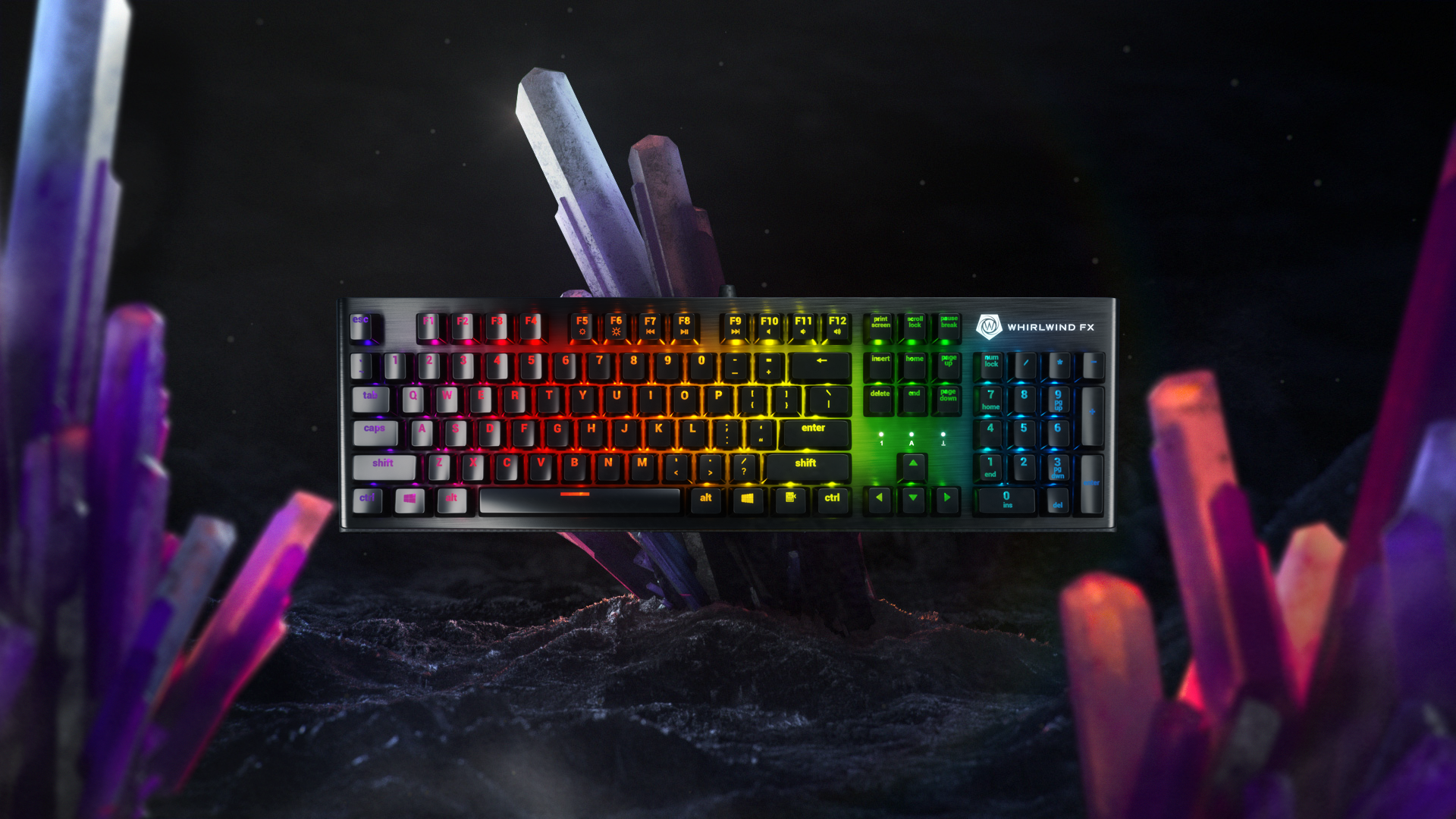 The high gloss keycaps are a bit slick to the touch, but they're also extremely reflective. The space between the keys and underneath them is a big part of the total lighting effect of a keyboard and can make the difference between a blocky, boring presentation and a smooth, dynamic display that can be really mesmerizing.
Side by side with my favorite keyboard of all time, the Steel Series Apex 7, the Whirlwind FX Element actually has a brighter, more vibrant RGB profile. If RGB is your top priority, I never actually seen anything better.
Whirlwind FX Is A Brand You Should Know
Before the Element, Whirlwind FX developed a gaming peripheral called the Vortx that would produce the heat from fire and explosions in games. That's where they first developed and patented their screen reading tech, and for them, the keyboard was logical next step.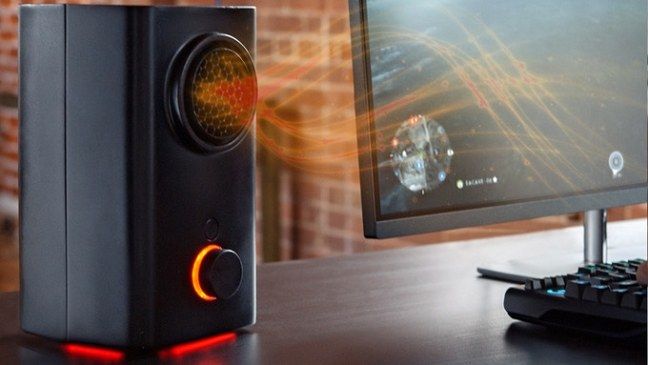 I don't know where they go next with it, but it's clear to see that their tech has the potential to impact the future of gaming in a big way. I'm a big believer in augmented reality, and Whirlwind FX is definitely one to watch.
The Element keyboard is a legitimate show-stopper. The RGB effects add so much to the atmosphere of my game time that I'm willing to sacrifice the bonus features of my other keyboards for it. If every keyboard looks the same to you, the Element is the one you're looking for.
A Whirlwind FX Element was provided to TheGamer for this review. You can learn more about the Element keyboard on their website.
Source: Read Full Article