Nintendo Switch: How To Move Your Saved Data
Quick Links
All Methods Require A Nintendo Account
Sync To Your Save Data Cloud
Which Transfer Option Should You Use?
Having multiple Nintendo Switch consoles can be difficult if you only want one save file. After all, you don't want to pick up one Switch and find out you haven't successfully moved your save data to it. Luckily, you have multiple options to consider, so you can continue your file even if you need to change your console.
The same applies to upgrading from one Switch to another. You may plan to never use an older model once you get a new one, so sending over the data can make things easier for you. If you don't know what to do, review the three main options for transferring data to cover your Switch needs while ensuring you don't lose any of your files.
All Methods Require A Nintendo Account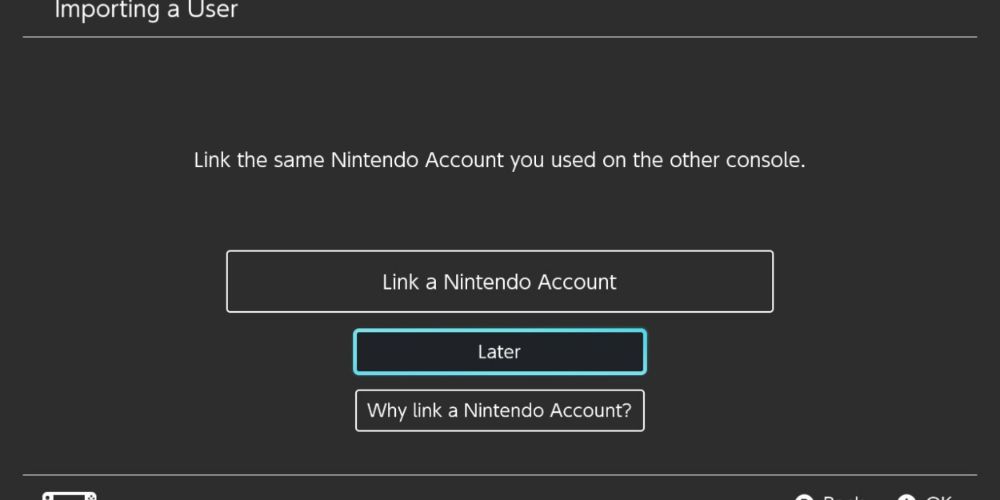 If you want to follow any of these methods, you must create a Nintendo Account and sync the user to each console. You'll need to follow some crucial steps to get your account connected.
​​
Go to the System Settings.
Select Users.
Click Add User, then Create a New User.
Select an icon and give it a nickname.
Choose to link a Nintendo Account.
Put in your username and password.
Select Link, then OK.
After you follow these steps, you'll have the account linked to your Switch. You don't need to spend money to make a Nintendo Account, so feel free to create one and get started.
Sync To Your Save Data Cloud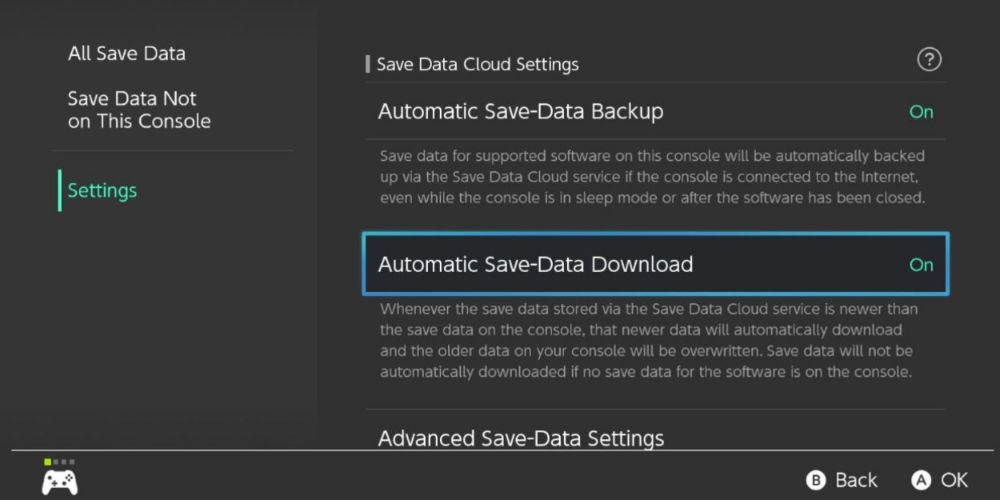 If you want the easiest way to keep your Switches up-to-date with your save files, you'll want to sync them to your save data cloud. However, you must have a Nintendo Online subscription to use this feature.
This costs $19.99 a year and gives you other online benefits. Doing so will let you keep your files connected to the cloud, so you'll automatically update each device. Doing so requires you to follow some critical steps to get it going.
If you don't have the Nintendo Account synced to a user, you'll have to do so before you use the cloud.
Visit your System Settings.
Select Data Management.
Choose Save Data Cloud.
Select the user you want to sync.
Choose the game you want to download from the cloud.
Select Download Save Data to put it on the Switch.
You can only download one game at a time when you use the cloud. However, once you download them, you can set it up to automatically update the save data, so you won't have to repeat this process every time you play a game. You'll follow the same steps to download a file up to step four.
From there, you'll choose the Settings section under save data cloud and turn on Automatic Save Data Backup and Automatic Save Data Download. Once you do that on both systems, you'll automatically keep your files up-to-date for all games that support cloud saving.
Manually Move One File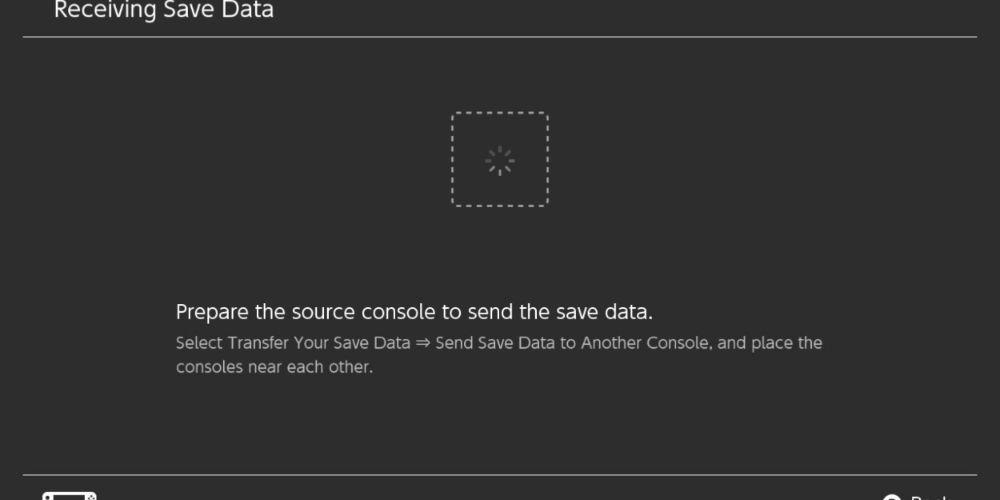 This process does not create a save file on both consoles. You transfer it from one Switch to the other, deleting it on the old console in the process, so you'll have to send the data back if you want to use it on a different console.
What about games that don't support cloud saving? If you plan to use one Switch for a while and want to play a game that doesn't let you back up the data, you can move that file manually. You must have the same Nintendo account on both consoles to do this. You'll start by going through some steps with the source console.
Hover over the game icon on the home screen and press the Plus button.
Select Manage Software.
Choose to Transfer Your Save Data.
Select Send Save Data to Another Console.
Pick the user.
Choose the save data you want to send.
Select Send Save Data.
After you finish those steps, you'll also need to follow some instructions on the target console. Doing so involves following the same steps as the source console, but instead, you'll choose to receive the data. Upon doing so, you'll have your file on the other Switch.
Transfer Your User Data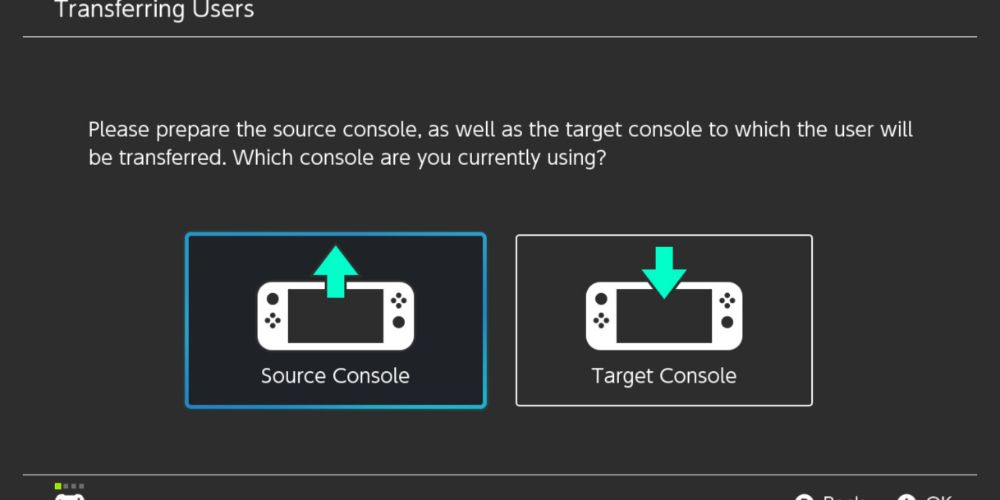 This step transfers all your data to the receiving Switch. That means it'll altogether remove the data from the original Switch, so you won't have it on there anymore.
This step allows you to transfer all your user data from one console to another. Doing so requires you to follow a few steps on both the target and source consoles. You'll have to place these Switches close to each other to perform the transfer.
Go to System Settings.
Select Users.
Choose Transfer Your User Data.
Hit Next twice.
Plug your Switch into the AC Adapter.
Select Target Console.
Sign in to your Nintendo Account
Confirm it's the correct user.
You'll follow the same points up to step five on the console that'll receive the data.
Select Source Console.
Sign in to your Nintendo Account.
Wait for both devices to connect.
Select Transfer on the source console.
After completing those steps, you'll need to leave both consoles on and wait for the transfer. You'll see the progress on the Switch receiving the new data. Once you finish, the data will be gone on the original Switch and moved to the new one.
Which Transfer Option Should You Use?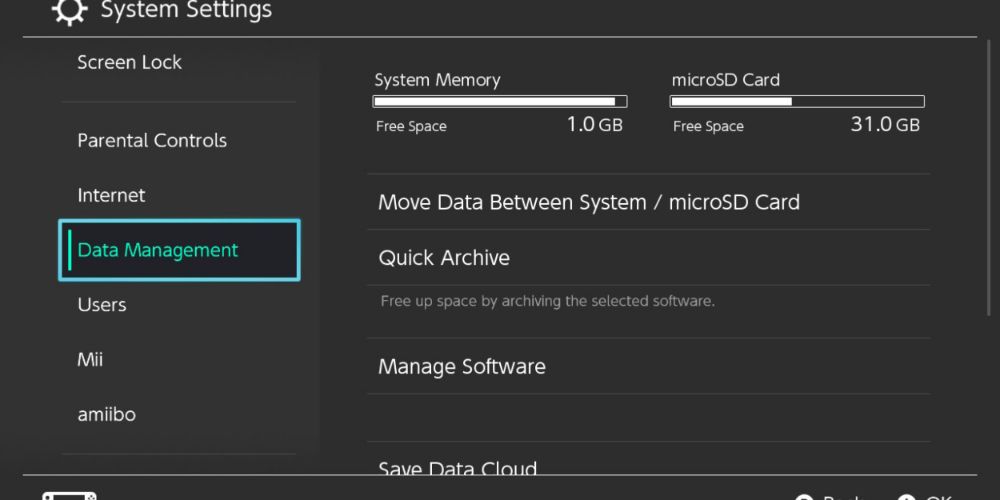 While each option can meet your needs when transferring save data, you'll want to use them in different situations. If you have Nintendo Switch Online, you can sync your accounts to the cloud and automatically update your progress on each Switch. This one works best if you have multiple Switches and plan to use them often.
For example, you may use a Nintendo Switch OLED at home but take a Switch Lite on the go, so having them sync will let you change your console without worrying about losing data — as long as you keep them both connect to the internet.
Manually moving one file works best if the game doesn't support cloud data. You'll want to keep the file on the system you primarily use. However, if you plan to go on a trip for a few weeks, for example, you can use it to transfer the data and play the game on your preferred portable system. If you can go without playing the game, you may want to leave the file on the main console and not bother playing it if you don't want the hassle.
Transferring your user data should only be used if you don't plan to use the previous console again. For example, you may upgrade to a Switch OLED and want to give someone your original Switch as a gift. In that situation, you'd transfer all your data to the OLED and give away the original Switch.
Given the Nintendo Switch offers multiple ways to transfer data from one console to another, ensure you review the options, see which ones you prefer, and choose based on your needs. Doing so will help you remove some struggles from the process, so you'll have your save files where you want them.
Source: Read Full Article